It's super easy to play "Magical Beats"!
Drop beatons on the BGM's beat.
Connect over three beatons of the same color to make the beatons disappear!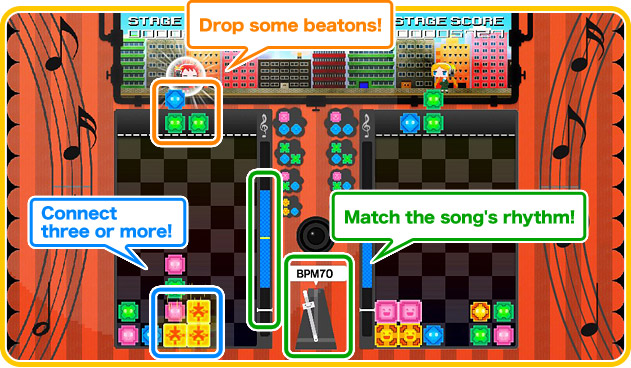 Beginner Battle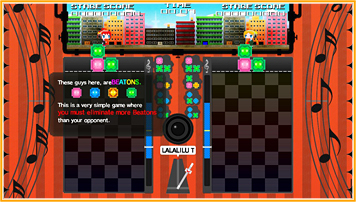 Win or lose? You get 5 stages, including a Tutorial Mode for beginners.
Normal Battle
Get ready for 10 consecutive stages!
As the stages progress, the CPUs gradually become stronger, too.
Hell Battle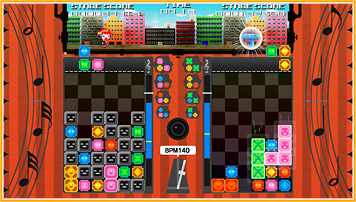 No more holding back. Get ready for the 10 Stage Fight for Survival!
Computers will be on the maximum difficulty right off the get-go. Oh, and did we mention there's one more beaton color?
My Own Battle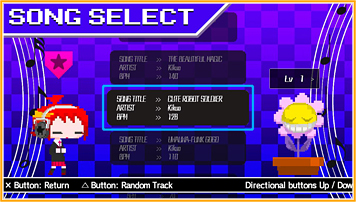 A practice mode where you can pick your favorite song and difficulty, and up to 5 stages.
Win or Lose, you'll still get to play 5 stages.
Battle Together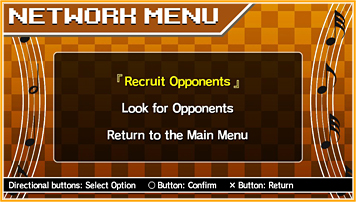 Battle with a friend using the Ad-Hoc Mode of the game. The type of battle will be determined beforehand.

#1 Link Time

When three or more beatons are connected, it takes approximately 4 beats (

a second or two

) for them to disappear.
This window is called "Link time", and is an opportunity to connect more beats!

#2 Beat Synchronization Gauge

In order to drop the beatons properly, they must fall according to the BGM's beat.


If the timing's off, beatons could fall down in one piece, or several, becoming unpredictable.
Keep an eye on the Beat Sync Gauge to get an idea of the beats on each stage.

#3 Jammer Beatons

Depending on players' scores, it's possible to send bad beatons, or "Jammer Beatons" onto the opponent's field.
Jammer Beatons will only disappear when beatons are erased in their vicinity.
Send a ton of Jammer Beatons to the opponent's side to secure your victory.
#4 Training Wheels
A new beginner-friendly function has been added, which will keep the beatons in tact, even if the timing is off.
If you're having trouble finishing a stage, try using this feature.
But remember, while this function is turned on, the game will not recognize new records and high scores.