"Ver1.1 game update" will be available on 27th July 2017.
Please download the update to enjoy the new contents.
The update will be avaialble for free to all users.
How to Update (Nintendo Switch)
The game will be automatically updated when the Nintendo Switch is connected to the internet. You can also manually update the game.
To manually update the game, press the "+ button" (or the "- button") in the HOME menu while the cursor is on the game. In the Options Menu, please select "Software Update", followed by "Via the Internet".
How to Update (Steam)
The game will be automatically updated when the Steam client start up.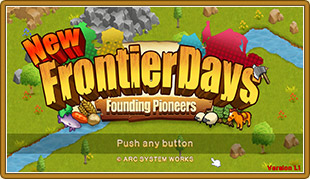 To check if "New Frontier Days ~Founding Pioneers~" has been successfully updated, start the game and check the game version displayed on the bottom right corner of the title screen. The game has been successfully updated when the version displayed is "Version 1.1".
Ver1.1 Game Update Content
New Features
・Select Multiple Pioneers Function: Added a feature to allow users to select multiple pioneers at once, by pressing and holding the "Confirm button" at an empty space.
*Pressing and holding the "Confirm button" again will cancel it.
・Added "French", "German", and "Kansai-ben"(Japanese Dialect) language support. The game language can be changed in the "Detail Settings" in the "Option" menu.
The following issues have also been addressed and fixed as of the current update:
・Story Mode
  - The overall difficulty of Story Mode has been adjusted.
  - The stats of the invading animals during the invading event have been adjusted.
・Changed the function of the ESC key, such that instead of closing the game immediately, it pops out the pause menu instead now. (Steam)
・Fixed a crash issue where the game do not boot up properly in certain PC environments. (Steam)
Important Notice
*Saved data of the game progression from the previous version can be used in the new update.
*The update data will be stored in the System Memory or in the microSD Card.
Users will be able to check the available free space in "Data Management" at the "System Settings".